Alerts
The Alerts window can be used to create custom alerts for specific symbols. Open the Alerts window from the main menu by clicking Windows > Quotes > Alerts.
Create a new alert by clicking Alerts > Add or right clicking in the Alerts window and then clicking Add. The Add Alert window will populate.
To create an alert from the Add Alert window:
Type the symbol into the Symbol field. Add an optional comment in the Comment field
Set the alert Conditions

From the first dropdown select last price, bid price, ask price or volume
From the second dropdown select >=, <=, gains, loses or hits a new
From the third dropdown either type in a value or select high, low, 52 week high, or 52 week low
Use the checkbox to add an optional AND/OR parameter to the alert. The dropdown menus contain the same items as above

From the Actions section, select the desired notification type for a triggered alert. Check the box to Display a notification message, Beep, and/or Play a sound
Use the checkboxes to Display log in separate window and/or Disable alert after triggered
Click OK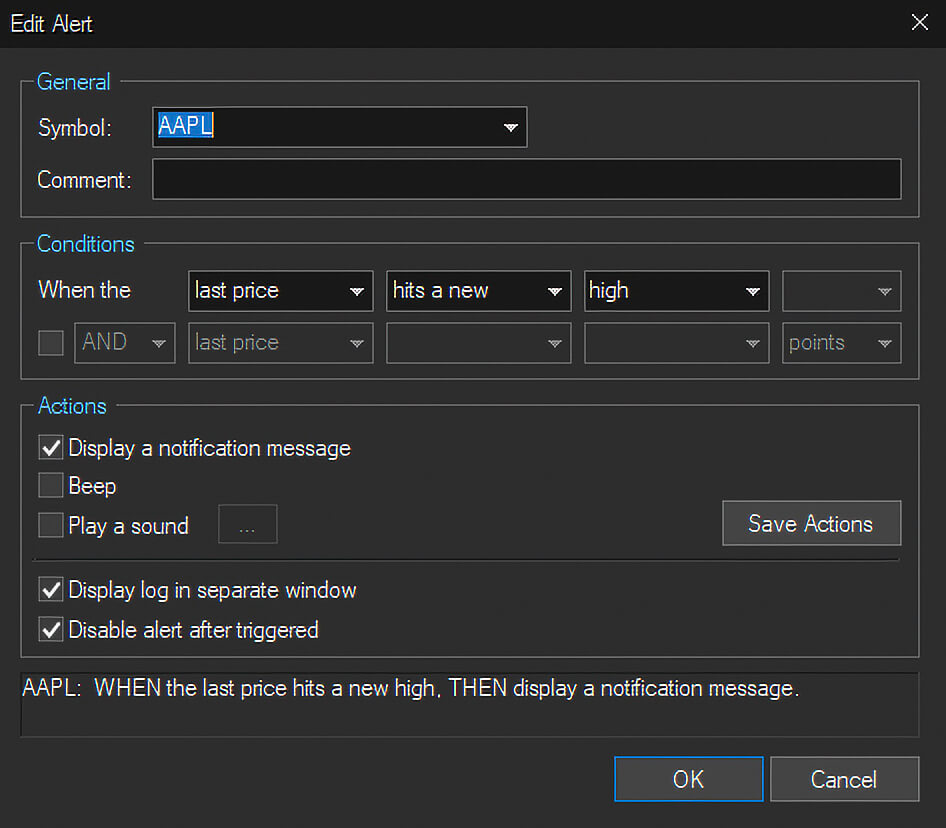 All created alerts will be displayed in the top pane of the Alerts window. All triggered alerts will be displayed in the bottom pane. Check the box next to the alert to enable it.