Quotes Settings
Display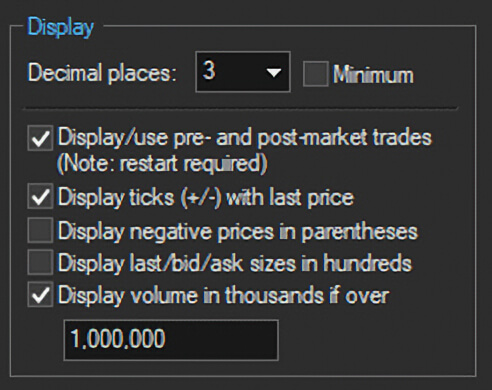 Decimal Places - The number decimal places used for prices and other numerical data. Check the Minimum box to display longer decimals only when the values are present.
Display/Use Pre- and Post-Market Trades - Pre/post-market trades will be shown and factored into calculations
Display Ticks (+/-) With Last Price – Add a "+" or "–" designation to last price fields to indicate whether the last price was up or down from the previous last price
Display Negative Prices in Parentheses - Adds ( ) around negative numbers
Display last/bid/ask sizes in hundreds – Display sizes in round lot factors of 100
Display Volume in Thousands If Over – Volumes will be displayed in multiples of 1,000 if over this threshold
Miscellaneous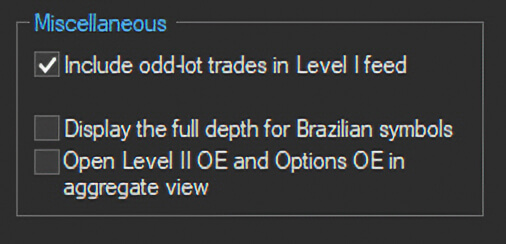 Include odd-lot trades in Level I feed
Display the full depth for Brazilian symbols
Open Level II OE and Options OE in aggregate view
Greeks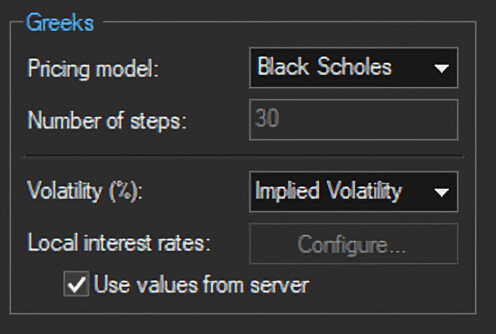 Pricing Model – Select to use either Black Scholes or Binomial pricing models for Greek calculations
Number of steps – Designate the number of steps to use in the Binomial model calculation
Volatility (%) - Select Implied Volatility or Server Volatility.
Local interest rates – Elect to use values from server or Configure your own